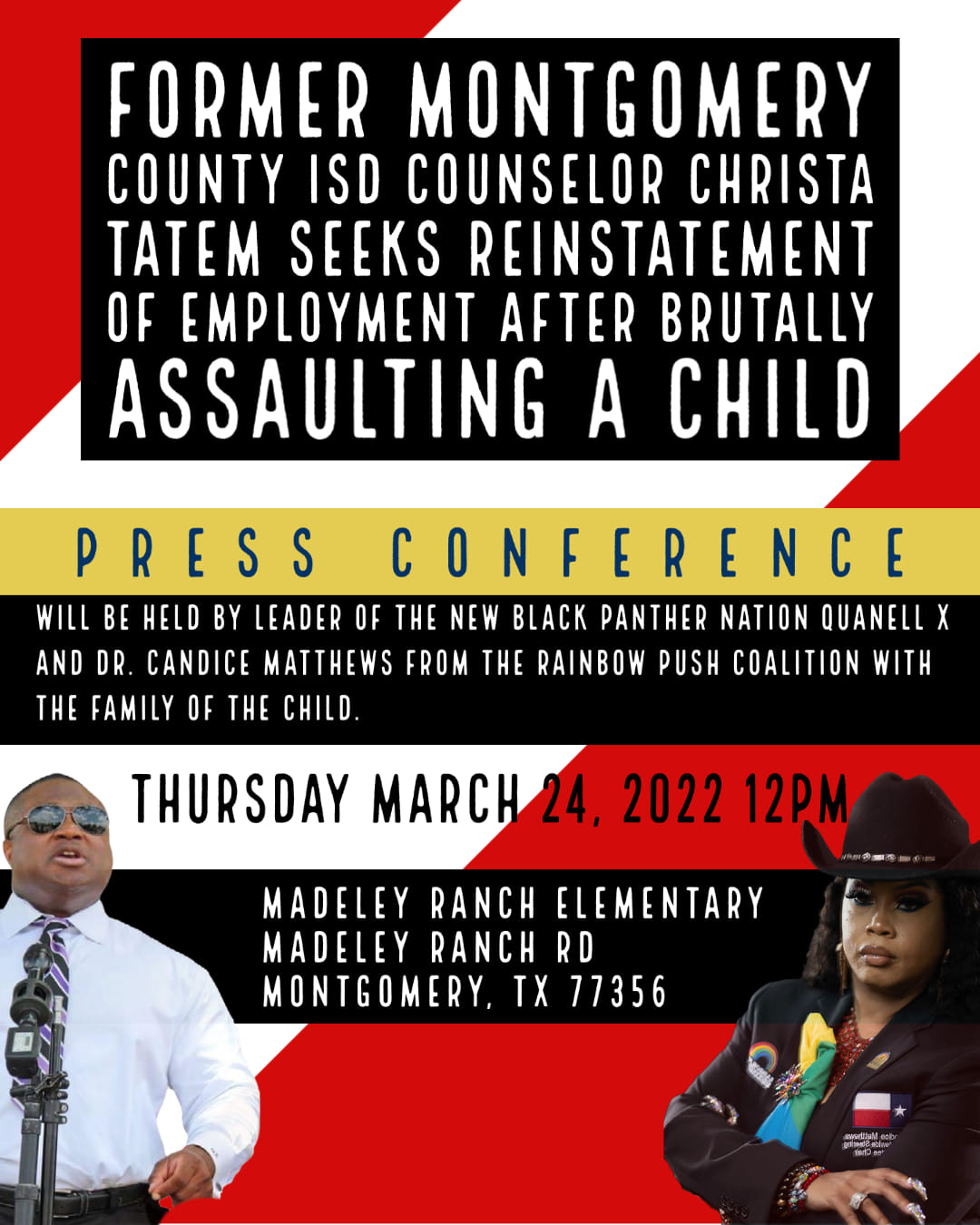 Quanell X and Candice Mattews from Rainbow Push Coalition canceled a scheduled press conference for the family of Kendrick Davis after they promised long-time news reporter Damali Keith the story for a Fox 26 exclusive.
Video used with permission of the New Peoples Black Panther Party
Houston, Texas- Local activists worked closely with the family of
7-year-old Kendrick Davis
to plan and prepare for a March 24 press conference to bring light to last year's attack of Kendrick by MISD Counselor Christa Tatem.
Jenifer Knighton attended a meeting with the family and Sam Smith back in March to watch the surveillance videos of the attack on Ken by MISD counselor Christa Tatem. She was able to capture portions on her cell phone. Knighton researched and collected details of the story, spoke with the MISD administration and law enforcement, and collaborated with other activists to hold a press conference with the family. Knighton uploaded her recordings to Youtube, created a flyer for the press conference that she planned, and wrote an article about the child's story in hopes of bringing national attention to this horrific situation.
Sources say that Quanell X and Candice Mattews from Rainbow Push Coalition took things into their own hands, canceled the press conference, and promised Fox 26 news reporter Damali Keith an exclusive story. However, the parents of Kendrick Davis assert that they were unaware that Fox 26 was claiming the story as an exclusive, and Fox was never given their permission to do such a thing.
The purpose of the press conference was to bring light to what was going on with our son. Quanell told Kendrick that I scared the news stations off, but that's not true because several news stations wanted to report on the story, Leveston added.
The video capturing part of the attack and the story was worth gold. Quanell X and Matthews switched things up and got their moment of fame, it had little to do with what was in the best interest of the family or to bring awareness of the issue to the community. Matthews was not working with the family, they were shocked when she jumped on the zoom meeting with them. The family hasn't heard from either party since.
Candice Matthews put out misinformation, saying that Ken was "throwing a fit," and that is not what happened, he did not throw a fit, says Leveston. Tatem was not fired either, she added.
On behalf of the family, Fox 26 Damali Keith was asked to correct the misinformation that was given to the public. She was contacted via email and text message but she didn't respond so Knighton reached out to Fox 26 news editor Susan Shiller and requested for her to take action.
Knighton received a phone call yesterday from Shiller and Keith stating that they would not correct the misinformation because Quanell X told Keith that Knighton was his assistant, which Keith failed to verify. While Keith alleges that MISD said to her that Tatem had been fired, the response from MISD clearly states that she was
recommended for termination
, not terminated.